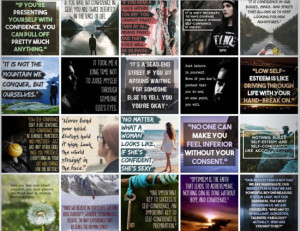 Want to grab 100 editable self-confidence social poster quote images?
In this package you'll receive:
Module 1: 100 Self-Confidence Based Social Poster Images
Module 2: 100 Editable PSD Photoshop Source Files
Module 3: XLS Spreadsheet Containing These 100 Quotes
Module 4: Royalty-Free End User License Agreement
Not only can you generate tons of traffic with these posters, you'll be inspiring people as well.
Here's just some of what you can do with these social poster images…
+ Post them on social networks and drive traffic anywhere to any location
+ Share them on Pinterest to get viral exposure
+ Build a targeted following on Instagram around these topics
+ Use them in your blog posts to create buzz and conversation around the subject
+ Generate a viral buzz on Facebook
+ Create a dedicated following on Twitter
+ Make blog posts for inspiration with them
+ Use them for inspiration in your own business or for your own customers
+ Include an image in your follow ups and broadcasts to your audience
There's no limits to how you can exploit and utilize these images to benefit your business and traffic efforts.
Best of all, you don't have to pay an arm and a leg. Just one small payment and they're yours to use again and again.