This Simple Yet Unique Product Offers a Healthy Solution to Satisfy Your Sweet Tooth.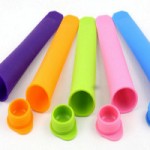 Kids love sweet things… actually, we all love sweet things. We are, however, hesitant to make and eat sweet treats because we are all so health conscious. What if there was a way to make sweet treats that are healthy, delicious and affordable? Sweetkins, a division of Jodran Enterprises LLC has just launched the Silicone Ice Pop Maker that inspires creativity when making tasty healthy desserts and frozen snacks with ease. This latest brand makes it simple to mix concoctions from fruits, juices, purees, yogurt, ice cream, gelatin or pudding and freeze them into the unique drip-free, no-mess, cone-shaped snacks. To help inspire and get the creative juices flowing, Sweetkins has included a set of 20 delicious recipe ideas with each order.
The Sweetkins Silicone Ice Pop Maker features a design that allows you to push up the snack as you eat from the eco-friendly mold. The ice pop molds are easy to clean and dishwasher safe. The colorful silicone molds have matching seal-tight lids to make this product not only reusable but also portable. The durable and flexible molds are FDA approved, BPA free and 100% food grade silicone. The Sweetkins Silicone Ice Pop Maker is packaged in a resealable bag for storing molds when not in use.
Our goal is to provide our customers with a high quality product for their money," said Jodran Enterprises President Jody Shumaker. "In today's economy, we are all looking for products that will help us save money. We stand behind our product 100%. Try the molds for up to 30 days: use them as much as you want. If you don't like them, you can return them to us, no questions asked, for a full refund of your purchase price."
Receive more information and purchasing details at Amazon:
http://www.amazon.com/Sweetkins-Silicone-Ice-Pop-Maker/dp/B00CDT2T6O
F
For F