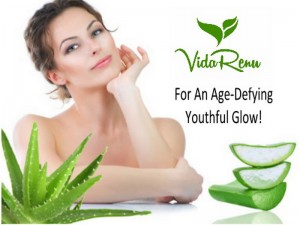 Sometimes the healthiest and most radiant skin is not gone, but dormant and needing to be brought to the surface. Based upon customer reports, no product seems to be able to resurrect the skin that youth provided the way VidaRenu does. This new line of product is an arsenal of age-defying advanced botanical and herbal formulas designed to deliver essential vitamins and antioxidants so that the best, freshest, most radiant skin can be revealed. The recent roll-out of the product line has already created buzz, hype and a great number of satisfied customers.
Fulfilled by Amazon.com, VidaRenu has already generated a faithful following, with customers praising its efficacy at meeting its claims on several fronts. Comments generated thus far offer verification that it pampers, protects, smooths, firms, rejuvinates and revitalizes. It does this by delivering a balanced dose of vitamins A, C, E with antioxidants, while also infusing skin with peptides, herbs and botanicals. The end result is more elasticity and firmness, as well as repaired and protected skin that escapes the ravages of UVA/UVB light and free radicals and a reduced appearance of fine lines and wrinkles.
It's common knowledge that skin that is better hydrated and has the right degree of moisture will be radiant and more youthful.
95% of customers have reported healthier looking skin after a few weeks. One customer named Faye shared her experience with VidaRenu in a testimonial, as follows:
"The cleanser is very gentle and washes off very clean. The toner plumps up my skin and gets rid of those fine lines. The peptide serum is not greasy and makes my skin baby soft. This kit contains all the best quality ingredients that will really make a difference in your skin."
As Faye and many others have discovered, the life of skin is drawn out through this formulaic skin care solution. Collagen boosting and moisture locking are two features that are known to aid in skin health and vitality. However, not every product delivers on these in the precise measure that offers maximum results.  By all accounts, VidaRenu does.
This breakthrough, anti-aging product by Jodran Enterprises, LLC comes with a 30 day money back guarantee. Customers who are not satisfied can return the unused product, or even an empty bottle, and obtain a full refund.
The paraben free product is made in the USA at an FDA certified lab. The reason all of this is important is that certified labs agree to adhere to the FDA's uniform and effective laboratory reporting formats and provides samples of their products for inspection.
To order product or for more information, visit http://www.vidarenu.com